Phweets are normally directed to a specific individual, the recipient, and the Phweet live exchange does not begin until the recipient accepts the request. We are testing a slightly different kind of Phweet exchange, that we're calling an "Undirected Phweet" until we have a better name. An "undirected" Phweet is one that is not sent to any one in particular. It is a Phweet URL that is created and immediately made active for others to join. The URL stays active until the host (creator of the Phweet) ends it.  However, unlike normal (directed) Phweets, the "undirected" Phweet URL stays active even if the host leaves (but does not "end") the Phweet URL. Participants may use the URL and continue their conversation even if the host is not present. All "undirected" Phweets are "public" – that is to say they do not use "d" messages.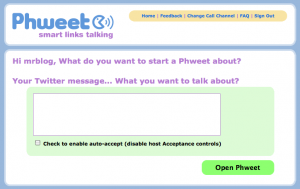 Undirected Phweets can be started in "auto-accept" mode where any visitor to the URL is "auto-approved" and immediately joins the Phweet. The host can still "kick" them out. Otherwise, normal request/approve controls are in place, where the host must approve (once) those users that want to join, the same way it works for normal Phweets. Hosts can also create the Phweet URL with normal host acceptance controls, and then "invite" specific users to join, sort of like a "broadcast", which essentially pre-approves those specific users, but still requires anyone else to ask to join and to be approved by the host.
Perhaps we should call these kinds of a Phweets "Coffee Talk" from the SNL skit where the Linda Richmond character would introduce a topic, such as "The Progressive Era was neither progressive nor an era" and then say "Discuss."
This new feature is not formally launched yet, but is available for testing.  To create an "Undirected Phweet" sign in to Phweet.com and use this link: http://phweet.com/phweetup.cgi
Try it and give us some feedback about what you think this feature needs.